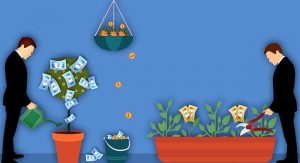 It is always amazing to me when I read articles that suggest a magic number for retirement.   I don't think there is one magic number that you need to reach in order to retire.  I will tell you every couple has a different set of expenses and varying income levels.  There isn't an easy solution.  I work with people to not only save for retirement but spend in retirement.
I look at the basic living expenses, what you need to keep the lights on.  This includes:
Housing
Automobile
Utilities
Food
Insurance
Next up is the extras
Vacations
Education Savings for grandchildren
2nd homes
Helping out children financially
After we review the expenses, we look at income sources.  Each income source is a 'bucket.'  Buckets include social security, pensions, savings, 401k, and other retirement savings plan.  We then look for the holes and come up with a plan.